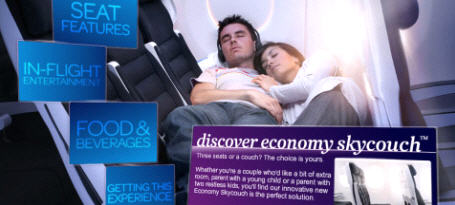 During a 9 month project with IDEO, Air New Zealand took a user centred approach to improve seating design for their long haul services. They built full scale prototypes of cabin interiors to carry out design research, evaluating seating and service concepts with real passengers.
The project began in 2007 with a goal of understanding passenger needs during long haul flights. Following extensive interviewing of passengers and flight attendants, a design team built seat concepts from polystyrene and cardboard.
Paid actors, as well as customers sat (or lay) through three hour research sessions simulating the in-flight experience. The actors were included to enhance the sense of realism, in addition to engine noise and full cabin service.
Finding a point of difference is a challenge for airlines. While Qantas' recent design efforts focussed on the aesthetic, commissioning Marc Newson to add a layer of style to the A380 interior, Air New Zealand choose to tackle the challenge from the customer's viewpoint, leaving style out of the question until the functionality was humming.

As well as researching the way passengers used the seating concepts, a 'fresh eyes' approach was taken when selecting a design team. Air New Zealand opted to work with industrial designers who had ergonomics experience, but were new to airline seating, avoid preconceptions, maximising  freedom to take risks and innovate.

A groundbreaking three year project with User Centred Design at the heart, resulting in true innovation based on fresh thinking and real customer insight.

What a dream project.

Watch an unexpectedly cheesy 2min video which will give you some glimpses into the process.

This entry was posted in