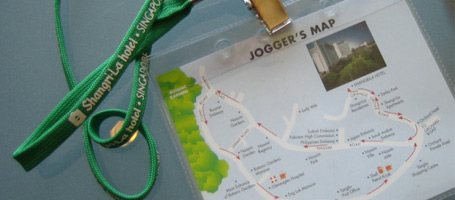 Where can I go for a run around here?
Concierge at my hotel in Singapore only needed to be asked this a few times before they found themselves offering directions.
…But all too often they'd spot their guests returning by taxi after getting lost in the suburbs.
This jogger's map started out when a staff member sketched a suggested route over a city map for a guest. This evolved over time through photocopied and laminated versions into this runner-friendly neck-tag.
Not everyone's idea of going for a run is the same, so hotel staff asked sweaty runners how far they ran and looked at the ways they folded their improvised city map. This way they could adjust the route and the boundary of the map to suit all levels of runner.
I love the way this jogger's map came about, it's like a condensed example of a User Centred Design process:
None of the staff were runners themselves
…but they strove to understand their customers
…they generated a solution in response to an observed need
…evolved the design through user feedback
…and iterative improvements
…adjusting the design to suit the context of use
The result benefits both the business and the customer
It's also a good example of how the little things can make the a big difference.

Chocolate on the pillow is always a nice touch and a no-brainer for hoteliers. …but businesses who listen to and observe their customers are in the best place to discover new and sometimes simple ways to provide both a point of difference and an improved customer experience.

This entry was posted in